Rehabilitation
The therapy teams at HSHS St. John's Hospital are dedicated to helping patients make a full recovery through rehabilitation services.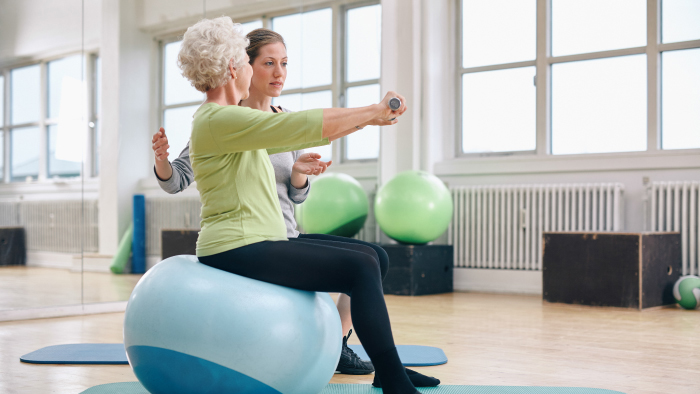 Whether you are recovering from an injury or an illness or living with a chronic condition, HSHS St. John's Hospital Rehabilitation is committed to helping you return to the most fulfilling, independent life possible.
Our expert physicians, nurses, therapists and home health professionals are dedicated and compassionate individuals who are also highly experienced in rehabilitation and the most advanced therapies available. Each of them will work closely with you and your loved ones to ensure that you have the care you need.
Therapy services
Aquatic therapy uses the properties of water to assist patients in their rehabilitation. Performing therapy exercises in a 90-degree warm water pool decreases the amount of weight placed on muscles, joints and bones and provides support for individuals who have trouble maintaining their balance.

Having water surround the body also helps blood circulate from the legs to the heart, often reducing any swelling in the ankles and feet. And, depending on the speed of movement, water can either assist or resist movement to strengthen muscle.
A lot of the things you do each day can lead to injury – from simple activities around the house to training in the gym or even how you sit at work. Our team can pinpoint areas of concern and work with you to reduce your risk of injury.
HSHS St. John's Hospital TherapyCare in Chatham, now offers DorsaVi Movement Suite (DMS), the latest wearable technology to help individuals of all ages improve performance and recognize and manage injuries.
Integrative dry needling, or dry needle therapy, is a highly effective form of physical therapy for the treatment of musculoskeletal and neuromuscular conditions. Dry needling uses thin filiform needles inserted into muscular trigger points to help relieve pain and improve range of motion. The procedure allows the therapist to reach tissues otherwise not within reach during other methods of physical therapy.
Our highly-skilled occupational therapy team can customize a program to help restore function through range-of-motion, strengthening and coordination exercises. Patient and family education, as well as equipment needs, is included as needed.

Occupational therapy helps prepare patients to successfully perform daily activities, such as bathing, dressing and home care management.
Our caring, compassionate therapists are an integral part of the patient's health care team to help ensure the highest quality of care. ​Our physical therapists use hands-on treatment to help restore normal movement and function, relieve pain and improve coordination after surgery or an illness or injury. Our therapists also provide feedback about prior level of function, special care needs, discharge plans and possible home modifications.
Speech therapy may be involved when your communication, thinking or swallowing has been affected by illness or injury. Our skilled speech therapists are specifically trained to restore, rehabilitate and help patients:
Regain speaking, reading and writing abilities
Improve a patient's ability to understand what others are saying
Improve a patient's thinking, math and memory skills, so they can manage their affairs
Improving swallowing skills to a safe level with food and beverages
Vestibular rehabilitation is an effective and individualized form of physical therapy that treats vertigo, dizziness, balance deficits and motion sensitivity. The goal is to improve a patient's ability to perform activities of everyday living, reduce the risk for falling and, ultimately, improve quality of life.