Wound Care Center
HSHS St. John's Regional Wound Care Center, located in St. John's Pavilion, provides specialized treatment for chronic or non-healing wounds, which are defined as sores or wounds that have not significantly improved from conventional treatments.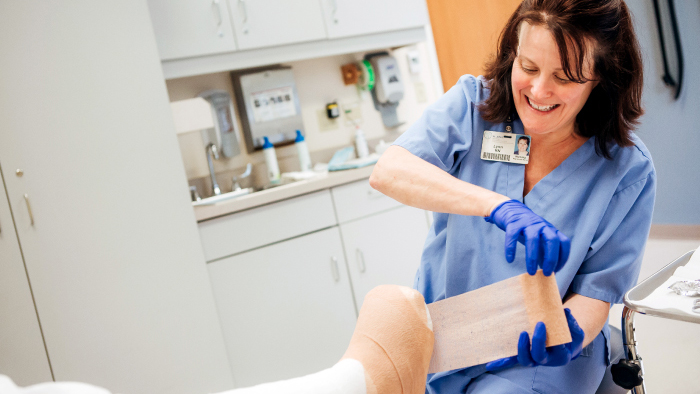 HSHS St. John's Regional Wound Care & Hyperbaric Center is a full-service wound center utilizing the most proven and trusted techniques in wound management, including hyperbaric oxygen chambers. Hyperbaric oxygen therapy supercharges the body's healing ability with concentrated oxygen to help resolve painful, stubborn wounds and infections.
With state-of-the-art treatments available, including debridement, dressing selection, special shoes and patient education, people with non-healing and chronic wounds now have a place to turn.
The wound care medical team includes certified specialists in wound care and hyperbaric medicine, podiatrists, plastic surgeons and vascular surgeons so the complex needs of patients with non-healing wounds can be met quickly and conveniently in one location.
A physician's referral is not required to obtain care at the Regional Wound Care Center. For more information, call 217-757-6644. Fax number is 217-757-6661.
A comprehensive treatment plan may include
Advanced biological tissues
Hyperbaric oxygen therapy
Medications
Nutritional support
Physical therapy
Specialized dressings
Therapy for Lymphedema
Wound cleaning and debridement