da Vinci™ Robotic Surgery
The robotics program at HSHS St. Vincent Hospital has quickly grown to be one of the busiest centers in the state and region despite previously having only one robotic surgical system.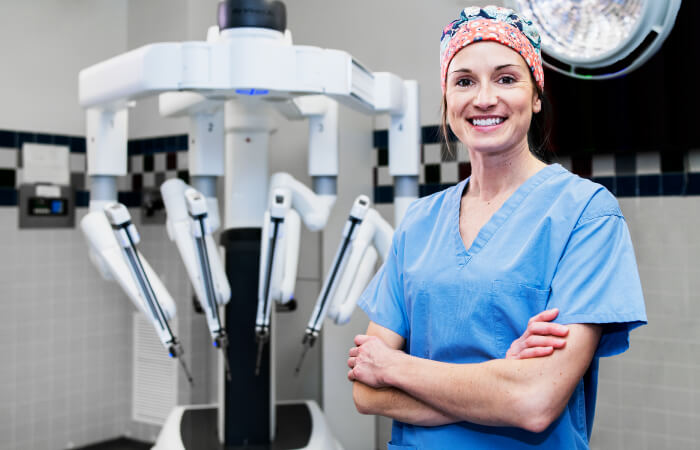 Introducing the da Vinci Xi Surgical System
HSHS St. Vincent Hospital is home to Green Bay's first in-use da Vinci Xi Surgical System – one of the most advanced, state-of-the-art robotic surgery technologies available in the world today.
The da Vinci Xi Surgical System offers a three-dimensional, high-definition (3D-HD) vision system, special instruments and computer software that allows surgeons to operate with enhanced vision, precision, dexterity and control. The 3D-HD image is highly magnified, offering surgeons a close-up view of the surgical site. The da Vinci instruments have mechanical wrists that bend and rotate to mimic the movement of the human wrist.
Not Your Traditional Surgery
The da Vinci Xi Surgical System supports a less-invasive technique than traditional surgery. Procedures are always performed entirely by a surgeon. After a surgical site is accessed through tiny incisions, the system translates the surgeon's hand movement into smaller, more precise actions of the tiny instruments inside the patient's body.
The da Vinci Xi Surgical System may be an option for patients having colorectal, general, bariatric, thoracic, gynecologic, or urologic related surgery.
Patients benefit from the use of the da Vinci Xi Surgical System in the following ways:
Surgery is minimally-invasive, with reduced scarring
Shorter hospital stay
Quicker recovery
Less pain medication is required