Newborn Intensive Care Unit (NICU)
Every woman hopes for a healthy pregnancy. But if challenges arise for baby, you can take comfort knowing HSHS St. Vincent Children's Hospital's Newborn Intensive Care Unit (NICU) is immediately available.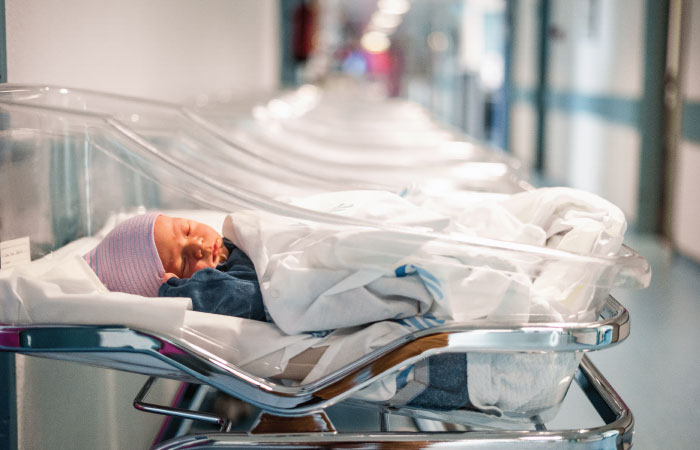 Just steps away from the HSHS St. Vincent Hospital's Women and Infants Center.
Our NICU is the first and longest-serving NICU in the Greater Green Bay community, serving patients and families from across Northeast Wisconsin, the Lakeshore and the Upper Peninsula of Michigan. For more than 50 years, we've had the dedication, expertise and technology needed to care for the most critical babies. Today, our neonatologists, nurses and other providers and staff there provide patients a combined 840 years of neonatal intensive care experience.
Inside our NICU, we provide immediate, 24/7 care for infants born too early, with low birth weights, with congenital birth defects or unanticipated difficulties that may happen during delivery. If the unexpected happens, rest assured you and your baby are in the best of hands.
To learn more about the NICU, call 920-433-8360.
A state-of-the-art unit equipped with the latest advancements in medical technology, HSHS St. Vincent Children's NICU ensures every baby gets the best possible start in life.
Our NICU is a 26 bed level III unit providing a quiet and soothing environment to promote healing, growth and development for every infant, from extremely premature infants to full term critically ill infants. Level III designation is the highest available at the state level, reserved only for the few NICU's that meet strict criteria for delicate infant care.
Here each caregiver has completed special training in the care of newborn infants with special needs. The NICU's highly experienced team of professionals includes neonatologists, neonatal nurse practitioners, nurses, respiratory therapists and developmental specialists who compassionately care for newborn infants born extremely premature, critically ill or needing surgical intervention. A neonatologist is always on site to attend difficult births and provide immediate diagnosis and specialized care.

It's our goal to help get every baby off to the best possible start in life. Click here to view our NICU family guide – designed for parents with babies at HSHS St. Vincent Children's Hospital.
If you have other children at home and you're concerned or have questions about how to talk to your child during your stay in the NICU or newborn unit,
Child Life
Specialists at HSHS St. Vincent Children's Hospital can help. They are trained to help siblings and families deal with hospital experiences. If you are interested in speaking or meeting with a Child Life Specialist, call
920-433-8641
or notify your child's nurse or doctor.
Experienced pharmacists skilled in the preparation of special medications for babies
Complimentary, one-on-one lactation consulting available to mother's during their breastfeeding journey
Live-in suite, enabling parents to spend a few nights prior to discharge alone with their baby at home with support of staff nearby
Chronic Lung Clinic to teach families how to use special equipment or dispense medication to their baby at home, as well as provide re-assessment of baby's treatment plan shortly after discharge
Follow Up Clinic by a licensed occupational therapist to assess the neurodevelopment of former NICU babies and connect families with community resources when additional support is needed
The regions only total body cooling program available if the unexpected happens during delivery
Occupational Therapists trained in interpreting infants' behavioral cues and modifying their environment to meet special needs and foster proper development
Your infants' care team will determine when it is safe for your infant to be discharged home. The goals your infant must reach are maintaining a normal temperature in an open crib, taking appropriate amounts of oral feedings, and be free of apneac events for a designated amount of time determined by your doctor.

Another item your infant may require prior to discharge is a car seat test. This test makes sure that your infant is safe to travel in a car seat. There may also be other goals not listed that your infant will need to meet before discharge. Each infant will meet their discharge goals at different times. There will be an ongoing discussion with your infants' care team regarding discharge goals and readiness. ​

When your infant is approaching discharge you will have the option to room in with them in our live-in suite, which is located across the hall from the unit. This will allow you to provide all the care for your infant with the support of our staff nearby.
To help provide our tiniest patients with the best possible health, screened donor milk from a milk bank is available for newborns in our NICU.
Our milk depot and dispensary is also open to the public. Find out how and where to donate or buy breast milk.
If you have a NICU graduate, we would love to spotlight your little miracle. If you are interested in possibly having your NICU story shared on our HSHS St. Vincent Children's Hospital Facebook page and/or on our NICU Wall of Miracles inside HSHS St. Vincent Children's Hospital, please
email us
.
Transportation accompanied by our specially trained staff, of ill newborns from outlying area hospitals to HSHS St. Vincent Children's NICU
24/7 critical care for babies born too early, with low birth weights, congenital birth defects or other problems with a neonatologist and neonatologist nurse practitioner always on site
Developmental care specialists trained in interpreting infants' behavioral cues and modifying their environment to meet special needs and foster proper development
A quiet and soothing environment that is conducive to healing, growth and development
Registered dietitian to provide the nutrition your infant needs for proper growth and development
Personal case managers to:

Help parents understand baby's treatment plan, provide a listening ear and answer questions
Arrange for assistance and direct families to community resources and supportive services, including helping parents find short-term housing if an extended stay is necessary