Could you benefit from physical therapy?
October is recognized as National Physical Therapy Month and HSHS St. John's Hospital wants to remind everyone of the benefits of physical therapy.
The therapy team with HSHS St. John's Hospital rehabilitation department is composed of expert physicians, nurses, therapists and home health professionals who are dedicated to helping our patients return to the most fulfilling, independent life possible. Our compassionate colleagues are highly experienced in rehabilitation and the most advanced therapies available.
"Physical therapy is not limited to those recovering from a surgery or a serious injury. Our physical therapists can help people of all ages to help restore normal movements and functions, relieve your pain and improve coordination," said Keri Snyder, MS, LAT, ATC, CES, PES, director of rehabilitation services and sports medicine at St. John's Hospital.
Physical therapy can aide in a long list of conditions, such as neck and back pain, headaches, carpal tunnel syndrome, Parkinson's disease and joint replacement surgery. PT can help to maximize your mobility, manage pain and chronic conditions, and improve your overall physical abilities and fitness.
According to Frederick Health, depending on the reason for treatment, benefits of physical therapy may include:
Pain management
Reduced need for prescription drugs
Avoiding surgery
Improved mobility and movement
Injury recovery or prevention
Recovery from stroke or paralysis
Fall prevention
Manage age-related medical issues
Manage heart and lung disease
St. John's Hospital provides outpatient physical, occupational, and speech therapy through TherapyCare and pediatric rehabilitation in HSHS St. John's Women and Children's Clinic. To learn more about rehabilitation services at St. John's, visit
here
. Contact your primary care provider for a referral to a TherapyCare facility near you.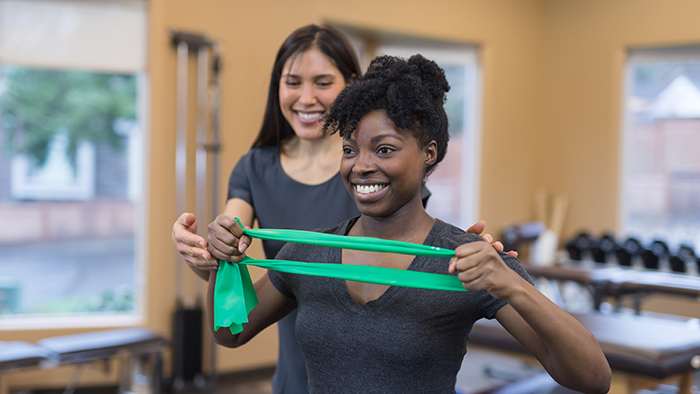 Media Contact
Jennifer Snopko
Marketing and Communications Manager