Wound Care Center brings attention to growing need
In recognition of Wound Healing Awareness Month, HSHS St. John's Hospital is bringing attention to state-of-the-art treatment for chronic or non-healing wounds at HSHS St. John's Regional Wound Care Center.
"At St. John's Regional Wound Care Center, our medical team uses the most-proven and trusted techniques in wound management to meet the complex needs of patients with non-healing wounds," said Nancy Chatham, ANP-BC, CCNS, CWOCN-AP, CLT, director of inpatient and outpatient wound ostomy care. "A chronic or non-healing wound is defined as sores or wounds that have not significantly improved from conventional treatment."
Patients of the St. John's Regional Wound Care Center receive a comprehensive, personalized treatment plan that may include medications, nutritional support, physical therapy, specialized dressings and shoes, wound cleaning and debridement or hyperbaric oxygen therapy. Hyperbaric oxygen therapy supercharges the body's healing ability with concentrated oxygen to help resolve painful, stubborn wounds and infections.
"Hyperbaric oxygen therapy exposes a patient to 100% oxygen in a special, pressurized space, which is about two to three times higher than the 21% oxygen that we breath normally," said Edgar Padilla, EMT-P, CHT, clinical process facilitator in St. John's Wound Care Center's hyperbaric oxygen therapy department. "This increased oxygen passes through the lungs, supplying more oxygen to the tissues that helps heal the body and fight off certain infections. It essentially heals wounds from the inside out."
To learn more about wound treatments available at HSHS St. John's Regional Wound Care Center, visit
here
. Talk to your doctor or surgeon today about advanced wound care options available to you, including hyperbaric oxygen therapy, right here in Springfield, Ill.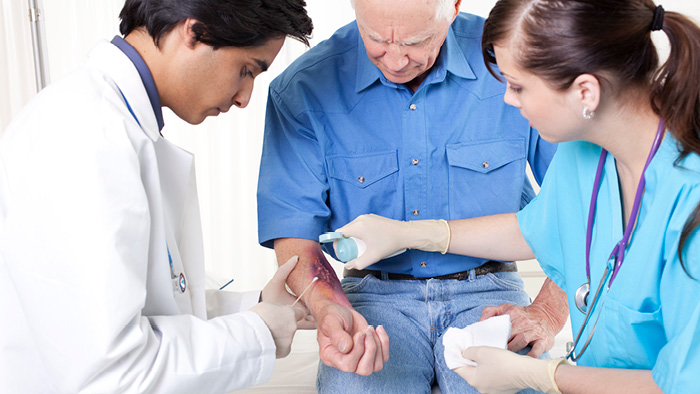 Media Contact
Jennifer Snopko
Marketing and Communications Manager