Cancer Care
Cancer services at HSHS St. Mary's Hospital Medical Center are part of HSHS St. Vincent Hospital Cancer Centers. Our cancer program offers a variety of resources to help patients manage their cancer diagnosis.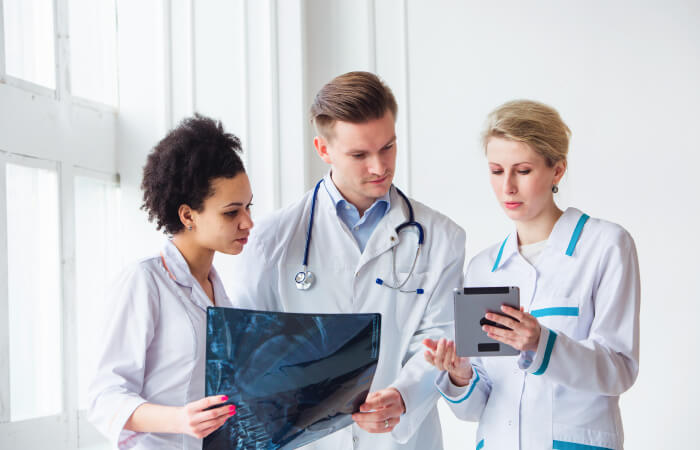 From our team of oncologists to the surgeons and staff at our hospital, we provide comprehensive cancer care from screening, testing and diagnosis to assertive treatment and survivorship, all in an advanced cancer center that includes innovative technology and comfortable, effective treatment delivery.

To schedule an appointment call 920-884-3135 or toll free 866-884-3135.
Our program includes the largest team of oncology specialists in the region, including medical and radiation oncology, the region's only fellowship-trained female gynecologic oncologist and fellowship-trained colon and rectal surgeons. Together, they stand ready to work hand-in-hand with a multitude of other skilled experts to help our patients during one of the most critical times of their lives.
Green Bay Oncology, the region's leading group of medical and radiation oncologists, has an enhanced partnership with HSHS St. Vincent Hospital Cancer Centers. Our organizations have collaborated for more than 35 years to provide cancer services for local communities. Together we have brought life-saving and innovative cancer treatment and cancer clinical trials to Northeast Wisconsin and Upper Peninsula patients, serving tens of thousands of patients over that time.
HSHS St. Vincent Hospital Cancer Centers Locations

HSHS St. Vincent Hospital Cancer Centers has been accredited by the Commission on Cancer for more than 55 years and is currently recognized as an Integrated Network Cancer program – the highest level of accreditation possible for a non-teaching hospital.
For more than a decade, our program has been recognized by the National Cancer Institute for our expertise in clinical research enabling us to provide the leading edge cancer treatments and offer more options to patients than any other cancer program in the area.