Stroke Center
A stroke is an interruption in the blood flow to our brain from either a clot or a break in the blood vessel.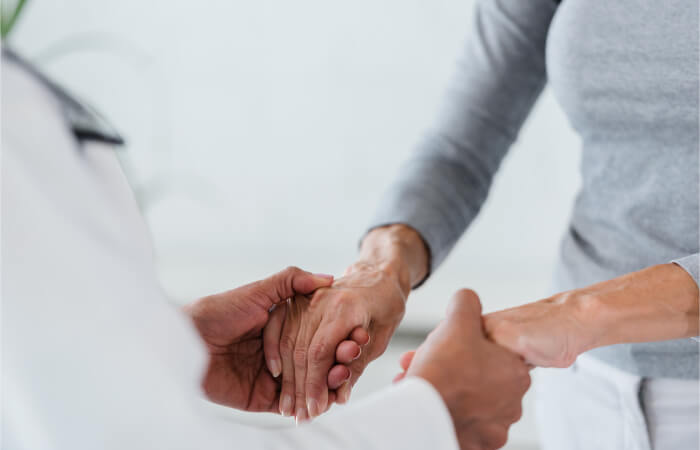 At HSHS St. Nicholas Hospital, stroke patients are placed in the hands of a specialty trained stroke team with immediate access to advanced treatments and stroke experts from across the country, with Telestroke.
HSHS St. Nicholas Hospital is a Certified Primary Stroke Center. As a Joint Commission stroke center, our team meets or exceeds quality measures. The specially trained stroke team at HSHS St. Nicholas Hospital provides rapid access to care with specialty expertise and written care protocols to provide individualized attention for patients. When a stroke occurs because of a blocked blood vessel in the brain, treatment for eligible patients with a clot-busting medicine to open up the blockage is very time-critical, our team is ready to act quickly.
Multiple-disciplinary team of care for you
Neurology
Neuro ICU
Case management
Radiology
Diagnostics
Lab
Inpatient rehab
Outpatient rehab
Services
Management of acute strokes
Management of transient ischemic attack (TIA)
Open endarterectomy for carotid stenosis
Diagnostic imaging
Post-stroke recovery
Telestroke Medicine
During a stroke, an estimated two million brain cells die per minute. Evidence shows that the quicker a stroke patient is evaluated and treated, the better his or her outcome and recovery will be. Thanks to Telestroke, HSHS St. Nicholas Hospital can treat stroke patients quicker, reducing or eliminating long-term stroke impacts.
State-of-the-Art Technology
HSHS St. Nicholas Hospital offers new, state-of-the-art technology that allows for faster, improved care for stroke patients. It's called Telestroke. Telestroke is telemedicine technology that connects stroke patients and emergency department physicians through two-way audio-visual equipment with highly skilled stroke experts with the click of a button.
When Seconds Count

When a patient with stroke symptoms arrives at the emergency department, they receive immediate, hands-on care and assessment from the expert doctors and nurses on staff. Then, using Telestroke technology, a board-certified neurologist is contacted immediately. After the neurologist examines the patient, they work with the emergency department physician to develop a treatment plan for the patient to ensure the best outcomes possible.

If you are experiencing any signs or symptoms of a stroke, call 9-1-1.
More Stroke Center Care Services