Neuroscience Center
Saving lives through advanced medicine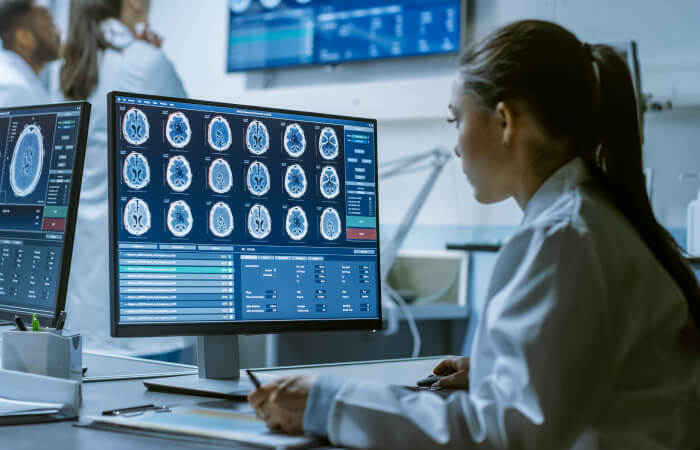 At HSHS St. Vincent Hospital Neuroscience Center, we understand the importance of teamwork, education and communication in helping patients improve their quality of life and well-being.
Neurologic diseases affect how the entire body works. When something goes wrong with one part of the nervous system – brain, spinal cord or nerves – patients can have trouble moving, speaking, swallowing, breathing or learning. Problems with memory, senses or mood can also occur. HSHS St. Vincent Hospital strives to reduce the burden of neurological disease for patients and their families.
We care for those with ailments from spina bifida to pain and Parkinson's disease to stroke, brain and spinal cord injury, epilepsy and depression. The Neuroscience Center at HSHS St. Vincent Hospital has been providing excellent, compassionate care for more than 30 years.
Our Neuroscience Center has a full range of services to treat almost all neurological and spine needs and is:
The area's first certified Stroke Center
The region's only Pediatric Intensive Care Unit (PICU)
The first in Wisconsin to use Gleolan™, a new, breakthrough tool designed to make the surgical removal of brain tumors more effective.
The first in Wisconsin to use robotic-and navigation-assisted technology for back and neck surgeries.
The area's busiest Emergency Center and a Level II Trauma Center in Green Bay
The stroke market leader in Brown County
Home to board-certified specialists in neurology, neurosurgery, orthopedic surgery, as well as vascular specialists, spine specialists and clinical nurse specialists
Staffed by board-certified pediatric specialists in neurology, orthopedic surgery and spine specialists
Equipped with state-of-the-art technology, including the Stealth System and O-arm Surgical Imaging System